Stainless Steel Countersunk Bolts, Carbon Steel Countersunk Bolts, Alloy Steel Countersunk Bolts, Nickel Alloy Countersunk Bolts, Aluminum Countersunk Bolts, Copper Alloy Countersunk Bolts & Bronze Countersunk Bolts Stockist & Exporter
Mahabali Steel Centre is one of the most prominent Countersunk Bolt Manufacturer & Supplier in India that supplies Metric Socket Countersunk Bolts to a wide variety of clients in varied industries. We also maintain a large Countersunk Bolt Stock at our storage facilities. We are known for Countersunk Bolts which we offer at sizes ranging from M2 to M24 and lengths ranging from 3 mm to 200 mm. We also specialize in offering customized Countersunk Bolts and Nuts for applications in
Countersunk screws are designed to be used alongside pre-drilled countersunk recesses. A countersunk screw is well adapted for use on thin metal and plastics. We fabricate and store various Alloy Steel Countersunk Bolts such as Brass Countersunk Bolts, Carbon Steel Countersunk Bolts and Nickel Alloy Countersunk Bolts for dispatch at a very short notice provided the minimum order quantity is fulfilled.
Industrial Countersunk Bolts, ASTM A449 SS Countersunk Bolts, DIN 931 / 933 Forged Countersunk Bolts, ANSI B 18.5 Metric Countersunk Bolts, BS 4933 Socket Head Countersunk Bolts, ASME B 18.5 Machine Countersunk Square Neck Bolts Dealer & Wholesalers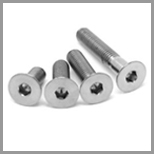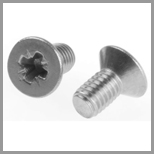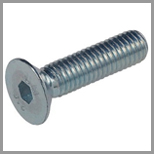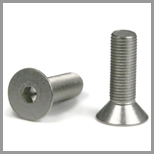 Our Copper Countersunk Bolts are designed and manufactured in our state of the art facilities which also undergo supervision by our professional and skilled workforce to ensure the guaranteed high quality and durability. Stainless Steel Countersunk Bolt fasteners can be manufactured from a range of materials, including A2 and A4 Stainless Steel. Being one of the leading Supplier, we supply a wide range of Counter Sunk Bolts to Construction, Industrial and Manufacturing sectors.
We offer a never before competitive and reasonable countersunk bolt price list for all our different countersunk bolts dimensions, all of whom meets the desired industrial countersunk bolt standards. We specialize in countersunk bolt material that offers considerable countersunk bolt strength in a different countersunk bolts sizes to our esteemed clientele.
Countersunk Bolts Specifications

Standard & Specifications
IS, DIN, BS, ASTM, IS 4190, ISO, JIS, GB
Length
3 mm to 200 mm
Size
M02 to M33
Countersunk Bolts Manufacturer
GKW, Unbrako, Kundan, APL, Sundaram Precision, EBY Fastener Etc.
Material
Stainless Steel, Low carbon steel, Alloy carbon steel, High Tensile, Nickel Alloy, Alloy Steel, Mild Steel, Copper, Brass, Aluminium
Stainless Steel Countersunk Bolts in Grade
SS 304, SS 304L, SS 309, SS 310, SS 316, SS 316L, SS 317, SS 317L, SS 321, SS 330, SS 347, SS 410, SS 430, SS 440C
Nickel Alloy Countersunk Bolts
Hastelloy Countersunk Bolts, Cupro Nickel Countersunk Bolts, Nickel Countersunk Bolts, Monel Countersunk Bolts, Inconel Countersunk Bolts, Alloy 20 Countersunk Bolts
Types of Bolts
Eye Bolts, Allen Bolts, Hex Head Bolts, Hanger Bolts, Carriage Bolts, Jack Bolts, Square Head Bolts, Lag Bolts, U Bolts, Elevator Bolts, Steel Bolts, Hex Flange Bolts, Structural Bolts, Step Bolts, Square Head Machine Bolts, Plow Bolts, Metric Bolts, Hex Tap Bolts, Hex Machine Bolts, Shoulder Eye Bolts, Serrated Flange Bolts, Turned Eye Bolts, Long Bolts, Bent Bolts, Square U Bolts, Timber Bolts, 12 Point Flange Bolts, Heavy Hex Bolts, Button Head Bolts, Hexagon Flange Bolts, Stud Bolts, Hexagon Head Bolts, Lifting Eye Bolts, T Bolts, Countersunk Bolts, Threaded Bolts
Finish
Plain, black, zinc plated (Cr,3+), zinc plated(Cr,6+), hot dipped galvanized, dacromet, nickel plated, cadmium plated, etc.
Latest Countersunk Bolts prices list:
We Mahabali Steel Center offer best in class Countersunk Bolts at best market prices in India. Request the Latest Countersunk Bolt price list using the contact form here.
Countersunk Bolts Available Materials

Countersunk Bolts
SS Countersunk Bolts
Steel Countersunk Bolts
Countersunk Bolt
Stainless Steel Bolts
Low Carbon Steel Bolts
Alloy Carbon Steel Bolts
Aluminium Bolts
High Tensile Bolts
Nickel Alloy Bolts
Alloy Steel Bolts
Stainless Steel Countersunk Bolts
Mild Steel Bolts
Copper Bolts
Brass Bolts
Low Carbon Steel Countersunk Bolts
Alloy Carbon Steel Countersunk Bolts
High Tensile Countersunk Bolts
Nickel Alloy Countersunk Bolts
Alloy Steel Countersunk Bolts
Mild Steel Countersunk Bolts
Copper Countersunk Bolts
Brass Countersunk Bolts
Aluminium Countersunk Bolts
SS Countersunk Bolts Available Grades
SS 304 Countersunk Bolts
SS 304L Countersunk Bolts
SS 309 Countersunk Bolts
SS 310 Countersunk Bolts
SS 316 Countersunk Bolts
SS 316L Countersunk Bolts
SS 317 Countersunk Bolts
SS 317L Countersunk Bolts
SS 321 Countersunk Bolts
SS 330 Countersunk Bolts
SS 347 Countersunk Bolts
SS 410 Countersunk Bolts
SS 430 Countersunk Bolts
SS 440C Countersunk Bolts
Inconel Countersunk Bolts Available Grades
Inconel 600 Countersunk Bolts
Inconel 601 Countersunk Bolts
Inconel 625 Countersunk Bolts
Inconel 718 Countersunk Bolts
Incoloy 800 Countersunk Bolts
Incoloy 800H Countersunk Bolts
Incoloy 800HT Countersunk Bolts
Incoloy 825 Countersunk Bolts
Incoloy 925 Countersunk Bolts
Incoloy 330 Countersunk Bolts
Incoloy SS 330 Countersunk Bolts
Incoloy Ra 330 Countersunk Bolts
Alloy Steel Countersunk Bolts Available Grades
Alloy Steel B6 Countersunk Bolts
Alloy Steel B7 Countersunk Bolts
Alloy Steel B7M Countersunk Bolts
Alloy Steel B16 Countersunk Bolts
Alloy Steel 4340 Countersunk Bolts
Alloy Steel 2 Countersunk Bolts
Alloy Steel 2HM Countersunk Bolts
Alloy Steel 2H Countersunk Bolts
Alloy Steel GR6 Countersunk Bolts
Alloy Steel 4140 Countersunk Bolts
Alloy Steel GR7 Countersunk Bolts
Alloy Steel GR7M Countersunk Bolts
Alloy Steel 6150 Countersunk Bolts
Alloy Steel 8620 Countersunk Bolts
Carbon Steel Countersunk Bolts Available Grades
Carbon Steel Countersunk Bolts
Carbon Steel 1006 Countersunk Bolts
Carbon Steel 1008 Countersunk Bolts
Carbon Steel 1010 Countersunk Bolts
Carbon Steel 1018 Countersunk Bolts
Carbon Steel 1021 Countersunk Bolts
Carbon Steel 1022 Countersunk Bolts
Carbon Steel 1026 Countersunk Bolts
Carbon Steel 1117 Countersunk Bolts
Hastelloy Countersunk Bolts Available Grades
Hastelloy C22 Countersunk Bolts
Hastelloy C276 Countersunk Bolts
Hastelloy B2 Countersunk Bolts
Hastelloy B3 Countersunk Bolts
Hastelloy X Countersunk Bolts
Duplex Steel Countersunk Bolts Available Grades
Duplex Steel S31803 Countersunk Bolts
Duplex Steel S32205 Countersunk Bolts
Super Duplex Steel S32750 Countersunk Bolts
Super Duplex Steel S32760 Countersunk Bolts
Cupro Nickel Countersunk Bolts Available Grades
Cupro Nickel 90 Countersunk Bolts
Cupro Nickel 10 Countersunk Bolts
Cupro Nickel 70 Countersunk Bolts
Cupro Nickel 30 Countersunk Bolts
Monel Countersunk Bolts Available Grades
Monel 400 Countersunk Bolts
Monel K500 Countersunk Bolts
Nickel Countersunk Bolts Available Grades
Nickel 200 Countersunk Bolts
Nickel 201 Countersunk Bolts
Titanium Countersunk Bolts Available Grades
Titanium Gr 2 Countersunk Bolts
Titanium Gr 5 Countersunk Bolts
Other Countersunk Bolts Available Grades
Alloy 20 Countersunk Bolts
SMO 254 Countersunk Bolts
AISI 4130 Countersunk Bolts
Alloy 218 Countersunk Bolts
17-4ph Countersunk Bolts
Aluminium Countersunk Bolts
Countersunk Bolts Available Standards

ASTM
ASTM A193 Countersunk Bolts
ASTM A307 Countersunk Bolts
ASTM A320 Countersunk Bolts
ASTM A325 Countersunk Bolts
ASTM A354 Countersunk Bolts
ASTM A449 Countersunk Bolts
ASTM A490 Countersunk Bolts
ASTM F568 Countersunk Bolts
ASTM F593 Countersunk Bolts
ASTM F1554 Countersunk Bolts
ASTM A325M Countersunk Bolts
ASTM A490M Countersunk Bolts
IS
IS 1363 Countersunk Bolts
IS 1364 Countersunk Bolts
IS 2585 Countersunk Bolts
IS 3138 Countersunk Bolts
IS 3640 Countersunk Bolts
IS 10238 Countersunk Bolts
IS 3757 Countersunk Bolts
IS 6639 Countersunk Bolts
DIN
DIN 931 Countersunk Bolts
DIN 933 Countersunk Bolts
DIN 960 Countersunk Bolts
DIN 961 Countersunk Bolts
DIN 7990 Countersunk Bolts
DIN 610 Countersunk Bolts
DIN 6914 Countersunk Bolts
DIN 6915 Countersunk Bolts
BS
BS 1083 Countersunk Bolts
BS 1768 Countersunk Bolts
BS 1769 Countersunk Bolts
ANSI
ANSI B18.2.1 Countersunk Bolts
ISO
ISO 7412 Countersunk Bolts
Countersunk Bolts Sizes

Countersunk Bolts Sizes
Countersunk Bolts size chart
Countersunk Bolts size guide
Countersunk Bolts dimensions
3/8″-16 x 1″ Grade 5 Finish Countersunk Bolts
1/2″-13 x 1-1/2″ Grade 5 Finish Countersunk Bolts
1/4″-20 x 1″ Grade 5 Finish Countersunk Bolts
3/8″-16 x 1-1/4″ Grade 5 Finish Countersunk Bolts
3/8″-16 x 1-1/2″ Grade 5 Finish Countersunk Bolts
1/4″-20 x 3/4″ Grade 5 Finish Countersunk Bolts
1/2″-13 x 2″ Grade 8 Yellow Finish Countersunk Bolts
1/2″-13 x 2″ Grade 5 Finish Countersunk Bolts
1/2″-13 x 1-1/2″ Grade 8 Yellow Finish Countersunk Bolts
5/8″-11 x 2″ Grade 8 Yellow Finish Countersunk Bolts
1/4″-20 x 3/4″ Grade 18-8 Stainless Steel Countersunk Bolts
5/16″-18 x 1″ Grade 5 Finish Countersunk Bolts
3/8″-16 x 1″ Grade 8 Yellow Finish Countersunk Bolts
3/8″-16 x 1″ Grade 18-8 Stainless Steel Countersunk Bolts
3/8″-16 x 1-1/2″ Grade 8 Yellow Finish Countersunk Bolts
1/4″-20 x 1″ Grade 18-8 Stainless Steel Countersunk Bolts
5/8″-11 x 2″ Grade 5 Finish Countersunk Bolts
5/8″-11 x 2-1/2″ Grade 8 Yellow Finish Countersunk Bolts
3/8″-16 x 2″ Grade 5 Finish Countersunk Bolts
3/8″-16 x 1-1/4″ Grade 8 Yellow Finish Countersunk Bolts
Call Us - +91 22 6615 1922 | +91 22 6615 1966
SS DECORATIVE PROFILES & SHEETS SUPPLIER IN:
Bangalore, Hyderabad, Ahmedabad, Chennai, Suryapet, Jamalpur, Bhiwadi, Ballia, Ambala, Sadar, Udgir, Miryalaguda, Bansberia, Mumbai, India, Maharashtra, Delhi, Karnataka, Andhra Pradesh, Kerala, Tripura, Benin, Puducherry, Mizoram, Manipur, Tadepalligudem, Betul, Nagapattinam, Bundi, Baraut, Buxar, Muktsar, Kolkata, Surat, Pune, Jaipur, Lucknow, Kanpur, Nagpur, Indore, Thane, Bhopal, Visakhapatnam, Pimpri and Chinchwad, Patna, Vadodara, Ghaziabad, Ludhiana, Agra, Nashik, Faridabad, Meerut, Rajkot, Gujarat, Tamil Nadu, West Bengal, Gujarat, Bihar, Rajasthan, Uttar Pradesh, Punjab, Haryana, Madhya Pradesh, Jharkhand, Chhattisgarh, Assam, Chandigarh, Orissa, Kalyan, Dombivali, Vasai, Coimbatore, Jabalpur, Gwalior, Vijayawada, Jodhpur, Madurai, Bhadreswar, Kasganj, Kalyani, Nagaur, Port, Blair, Datia, Hinganghat, Banswara, Nagda, Raipur, Kota, Guwahati, Chandigarh, Solapur, Hubli and Dharwad, Virar, Varanasi, Srinagar, Aurangabad, Dhanbad, Amritsar, Navi Mumbai, Allahabad, Ranchi