ASTM A194 Reversible Locknuts, DIN 985 Two-way Reversible Lock Nuts, JIS B 1196 Reversible Locknuts, ANSI B 18.2.2 Reversible Locknuts, M3 to M100 Reversible Locknuts Manufacturer & Supplier in India
Mahabali Steel Centre is a known Reversible Locknuts Manufacturer delivering high-quality products such as the Metric Reversible Locknuts which get their name because of their functionality and ability to be used either top-up, or top-down. Two Way Lock Nuts feature indentations on the outside flats of the nut, distorting the internal threads to increase resistance on the mating part. This allowed us to become a successful Reversible Locknuts Supplier that caters to the Industrial Reversible Locknuts needs of our customers. To ensure that all the Reversible Locknuts and Bolts going out of our manufacturing plant are the best in terms of quality, we have equipped our facilities with various testing machines such as a tensile testing machine.
The durability and corrosion resistance of all our Zinc Plated Reversible Nuts, as well as Galvanized Reversible Nuts, allows it to be used for various applications. We design various Reversible Locknut Types such as the Reversible Hex Locknuts that are dimensionally accurate. Being the largest Nut Supplier, we design and fabricate a wide array Heavy Duty Reversible Locknuts which are offered to our clients as per their requirements and specifications which are acknowledged by our customers across the globe for its quality and compliance to industry standards and are offered in sizes ranging from M3 to M60. We offer Reversible Self Locking Nuts for Equipment Manufacturing, Mining, Oil Refineries, Chemical manufacturing, Steel, and Aluminium Manufacturing.
Stainless Steel Reversible Locknuts, Carbon Steel Reversible Locknuts, Alloy Steel Reversible Locknuts, Aluminum Reversible Locknuts, Copper Alloy Reversible Locknuts & Bronze Reversible Locknuts Stockist & Exporter in India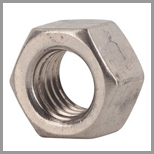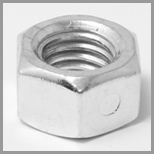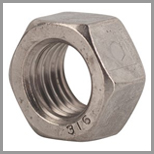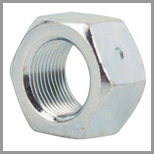 We leverage the help of our skilled and professional workforce to design high-quality Alloy Steel Cage Nu Reversible Locknuts. This also ensures that products like Stainless Steel Reversible Locknuts and Aluminium Reversible Locknuts are in compliance with the national and international standards. We fabricate Reversible Locknuts Materials such as the Carbon Steel Reversible Locknuts and Brass Reversible Locknuts with the help of the state of the art technology at our manufacturing units. Our clients prefer these nuts as it can be easily welded and processed by standard shop fabrication practices.
Contact us for your wide reversible locknuts sizes and reversible locknuts dimensions needs such as m12, m6, m8, m4, m10, m5 and we promise to deliver the demanded products in compliance with the industrial reversible locknuts standards. We also assure a competitive and reasonable reversible locknuts price list to facilitate all your reversible locknuts use economically. We ensure that all our offerings meet the desired reversible locknuts specifications.
Industrial Reversible Locknuts, SS Reversible Locknuts, Metric Reversible Locknuts, Reversible Self Locking Nuts, Zinc Plated Reversible Locknuts, Heavy Duty Reversible Locknuts, Galvanized Reversible Locknuts Dealer & Wholesaler
Reversible Locknuts Specifications

Standard & Specifications
IS, DIN, BS, ASTM, IS 4190, ISO, JIS, GB
Length
3 mm to 200 mm
Size
M02 to M33
Reversible Locknuts Manufacturer
GKW, Unbrako, Kundan, APL, Sundaram Precision, EBY Fastener Etc.
Material
Stainless Steel, Low carbon steel, Alloy carbon steel, High Tensile, Nickel Alloy, Alloy Steel, Mild Steel, Copper, Brass, Aluminium
Stainless Steel Reversible Locknuts in Grade
SS 304, SS 304L, SS 309, SS 310, SS 316, SS 316L, SS 317, SS 317L, SS 321, SS 330, SS 347, SS 410, SS 430, SS 440C
Nickel Alloy Reversible Locknuts
Hastelloy Reversible Locknuts, Cupro Nickel Reversible Locknuts, Nickel Reversible Locknuts, Monel Reversible Locknuts, Inconel Reversible Locknuts, Alloy 20 Reversible Locknuts
Types of Nuts
Hex Nuts, Dome Nuts, Hex Machine Screw Nuts, Hex Lock Nuts Nylon Insert, Hex Jam Nuts, Hex Jam Nylon Lock Nuts, Heavy Hex Nuts, Wing Nuts, Cap Nuts, Acorn Nuts, Square Nuts, K-Lock Nuts, Prevailing Torque Lock Nuts, Top Lock Nuts, Two-Way Reversible Lock Nuts, Pin-Lock Nuts, T-Nuts, Coupling Nuts, T-Slot Nuts, Castle Nuts, Flange Nuts Serrated, Machine Hex Nuts, Finished Hex Nuts, Forged Eye Nut, Rivet Nuts, Slotted Hex Nut, Acme Hex Nuts, Nylock Nuts, Anco Locknuts, Flexloc Nuts, Reversible Locknuts, Panel Nut, Poly Nut, Conelock Nut, Self Clinching Nuts, Domed Cap Nuts, Imperial Thread Nuts, Imperial Thread Nylock Nuts, Sleeve Nuts, Thin Nuts, Weld Nuts, High Tensile Nuts, Cage Nuts, Security Nuts, Imperial Nuts, Industrial Nuts, Miscellaneous Nuts, Insert Nuts, Knurled Nuts, Round Nuts
Latest Reversible Locknuts prices list:
We Mahabali Steel Center offer best in class Reversible Locknuts at best market prices in India. Request the Latest Reversible Locknuts price list using the contact form here.
Reversible Locknuts Available Materials

Reversible Locknuts
SS Reversible Locknuts
Steel Reversible Locknuts
Reversible Locknut
Stainless Steel Locknuts
Low Carbon Steel Locknuts
Alloy Carbon Steel Locknuts
Aluminium Locknuts
High Tensile Locknuts
Nickel Alloy Locknuts
Alloy Steel Locknuts
Stainless Steel Reversible Locknuts
Mild Steel Locknuts
Copper Locknuts
Brass Locknuts
Low Carbon Steel Reversible Locknuts
Alloy Carbon Steel Reversible Locknuts
High Tensile Reversible Locknuts
Nickel Alloy Reversible Locknuts
Alloy Steel Reversible Locknuts
Mild Steel Reversible Locknuts
Copper Reversible Locknuts
Brass Reversible Locknuts
Aluminium Reversible Locknuts
SS Reversible Locknuts Available Grades
SS 304 Reversible Locknuts
SS 304L Reversible Locknuts
SS 309 Reversible Locknuts
SS 310 Reversible Locknuts
SS 316 Reversible Locknuts
SS 316L Reversible Locknuts
SS 317 Reversible Locknuts
SS 317L Reversible Locknuts
SS 321 Reversible Locknuts
SS 330 Reversible Locknuts
SS 347 Reversible Locknuts
SS 410 Reversible Locknuts
SS 430 Reversible Locknuts
SS 440C Reversible Locknuts
Inconel Reversible Locknuts Available Grades
Inconel 600 Reversible Locknuts
Inconel 601 Reversible Locknuts
Inconel 625 Reversible Locknuts
Inconel 718 Reversible Locknuts
Incoloy 800 Reversible Locknuts
Incoloy 800H Reversible Locknuts
Incoloy 800HT Reversible Locknuts
Incoloy 825 Reversible Locknuts
Incoloy 925 Reversible Locknuts
Incoloy 330 Reversible Locknuts
Incoloy SS 330 Reversible Locknuts
Incoloy Ra 330 Reversible Locknuts
Alloy Steel Reversible Locknuts Available Grades
Alloy Steel B6 Reversible Locknuts
Alloy Steel B7 Reversible Locknuts
Alloy Steel B7M Reversible Locknuts
Alloy Steel B16 Reversible Locknuts
Alloy Steel 4340 Reversible Locknuts
Alloy Steel 2 Reversible Locknuts
Alloy Steel 2HM Reversible Locknuts
Alloy Steel 2H Reversible Locknuts
Alloy Steel GR6 Reversible Locknuts
Alloy Steel 4140 Reversible Locknuts
Alloy Steel GR7 Reversible Locknuts
Alloy Steel GR7M Reversible Locknuts
Alloy Steel 6150 Reversible Locknuts
Alloy Steel 8620 Reversible Locknuts
Carbon Steel Reversible Locknuts Available Grades
Carbon Steel Reversible Locknuts
Carbon Steel 1006 Reversible Locknuts
Carbon Steel 1008 Reversible Locknuts
Carbon Steel 1010 Reversible Locknuts
Carbon Steel 1018 Reversible Locknuts
Carbon Steel 1021 Reversible Locknuts
Carbon Steel 1022 Reversible Locknuts
Carbon Steel 1026 Reversible Locknuts
Carbon Steel 1117 Reversible Locknuts
Hastelloy Reversible Locknuts Available Grades
Hastelloy C22 Reversible Locknuts
Hastelloy C276 Reversible Locknuts
Hastelloy B2 Reversible Locknuts
Hastelloy B3 Reversible Locknuts
Hastelloy X Reversible Locknuts
Duplex Steel Reversible Locknuts Available Grades
Duplex Steel S31803 Reversible Locknuts
Duplex Steel S32205 Reversible Locknuts
Super Duplex Steel S32750 Reversible Locknuts
Super Duplex Steel S32760 Reversible Locknuts
Cupro Nickel Reversible Locknuts Available Grades
Cupro Nickel 90 Reversible Locknuts
Cupro Nickel 10 Reversible Locknuts
Cupro Nickel 70 Reversible Locknuts
Cupro Nickel 30 Reversible Locknuts
Monel Reversible Locknuts Available Grades
Monel 400 Reversible Locknuts
Monel K500 Reversible Locknuts
Nickel Reversible Locknuts Available Grades
Nickel 200 Reversible Locknuts
Nickel 201 Reversible Locknuts
Titanium Reversible Locknuts Available Grades
Titanium Gr 2 Reversible Locknuts
Titanium Gr 5 Reversible Locknuts
Other Reversible Locknuts Available Grades
Alloy 20 Reversible Locknuts
SMO 254 Reversible Locknuts
AISI 4130 Reversible Locknuts
Alloy 218 Reversible Locknuts
17-4ph Reversible Locknuts
Aluminium Reversible Locknuts
Reversible Locknuts Available Standards

ASTM
ASTM A194 Reversible Locknuts
ASTM A563 Reversible Locknuts
ASTM A594 Reversible Locknuts
DIN
DIN 439 Reversible Locknuts
DIN EN ISO 4035 Reversible Locknuts
DIN EN ISO 4036 Reversible Locknuts
DIN EN ISO 8675 Reversible Locknuts
DIN 439-B Reversible Locknuts
DIN 934 Reversible Locknuts
DIN EN ISO 4032 Reversible Locknuts
DIN EN ISO 8673 Reversible Locknuts
DIN 935 Reversible Locknuts
DIN 935-1 Reversible Locknuts
DIN 935-2 Reversible Locknuts
DIN 935-3 Reversible Locknuts
DIN 936 Reversible Locknuts
DIN 982 Reversible Locknuts
DIN EN ISO 7040 Reversible Locknuts
DIN EN ISO 10512 Reversible Locknuts
DIN 985 Reversible Locknuts
DIN EN ISO 10511 Reversible Locknuts
DIN 1587 Reversible Locknuts
DIN 6915 (ISO 4714) Reversible Locknuts
DIN 6923 (ISO 1661) Reversible Locknuts
Reversible Locknuts Sizes

Reversible Locknuts Sizes
Reversible Locknuts size chart
Reversible Locknuts size guide
Reversible Locknuts dimensions
3/8″-16 Grade 5 Finished Reversible Locknuts
1/2″-13 Yellow Grade 8 Finished Reversible Locknuts
1/4″-20 Grade 2 NE Steel Reversible Locknuts
5/16″-18 Grade 2 NE Steel Nylon Insert Reversible Locknuts
1/2″-13 ASTM A563 Grade A Steel Reversible Locknuts
3/8″-16 ASTM A563 Grade A Steel Reversible Locknuts
3/4″-10 A194 2-H Plain Finish Heavy Hex Nut
5/8″-11 A194 2-H Plain Finish Heavy Hex Nut
3/8-16 Low Carbon Plated Heavy Hex Nut
5/16″-18 Acorn Reversible Locknuts 18-8 Stainless Steel
1/2″-13 Acorn Reversible Locknuts 18-8 Stainless Steel
5/16″-18 Case Hardened Reversible Locknuts
5/8-18 Reversible Locknuts
3/4-16 Reversible Locknuts
5/8″-11 Case Hardened Reversible Locknuts
7/8″-14 SAE J995 Grade 2 Plain Finish Steel Reversible Locknuts
1″-8 SAE J995 Grade 2 Plain Finish Steel Reversible Locknuts
3/8″-16 x 0.620″ – 0.655″ Width Bridge Spot Reversible Locknuts
1/4″-20 Wide Spot Weld Reversible Locknuts
3/4-10 x L2-1/4 x W1″ Coupling Reversible Locknuts
3/8-16 x L1-3/4 x W5/8 Coupling Reversible Locknuts
1/4-20 Plated Cold Reversible Locknuts
5/16-18 Plated Cold Reversible Locknuts
1/2″-13 Grade A Plain Finish Steel Regular Reversible Locknuts
3/8″-16 Grade A Finish Steel Regular Reversible Locknuts
5/8″-11 Grade A Finish Steel Regular Reversible Locknuts
M6-1.0 Class 5 Finish Steel Regular Reversible Locknuts
Call Us - +91 22 6615 1922 | +91 22 6615 1966
SS DECORATIVE PROFILES & SHEETS SUPPLIER IN:
Bangalore, Hyderabad, Ahmedabad, Chennai, Suryapet, Jamalpur, Bhiwadi, Ballia, Ambala, Sadar, Udgir, Miryalaguda, Bansberia, Mumbai, India, Maharashtra, Delhi, Karnataka, Andhra Pradesh, Kerala, Tripura, Benin, Puducherry, Mizoram, Manipur, Tadepalligudem, Betul, Nagapattinam, Bundi, Baraut, Buxar, Muktsar, Kolkata, Surat, Pune, Jaipur, Lucknow, Kanpur, Nagpur, Indore, Thane, Bhopal, Visakhapatnam, Pimpri and Chinchwad, Patna, Vadodara, Ghaziabad, Ludhiana, Agra, Nashik, Faridabad, Meerut, Rajkot, Gujarat, Tamil Nadu, West Bengal, Gujarat, Bihar, Rajasthan, Uttar Pradesh, Punjab, Haryana, Madhya Pradesh, Jharkhand, Chhattisgarh, Assam, Chandigarh, Orissa, Kalyan, Dombivali, Vasai, Coimbatore, Jabalpur, Gwalior, Vijayawada, Jodhpur, Madurai, Bhadreswar, Kasganj, Kalyani, Nagaur, Port, Blair, Datia, Hinganghat, Banswara, Nagda, Raipur, Kota, Guwahati, Chandigarh, Solapur, Hubli and Dharwad, Virar, Varanasi, Srinagar, Aurangabad, Dhanbad, Amritsar, Navi Mumbai, Allahabad, Ranchi